National CPD conference for supply teachers

4 minutes to read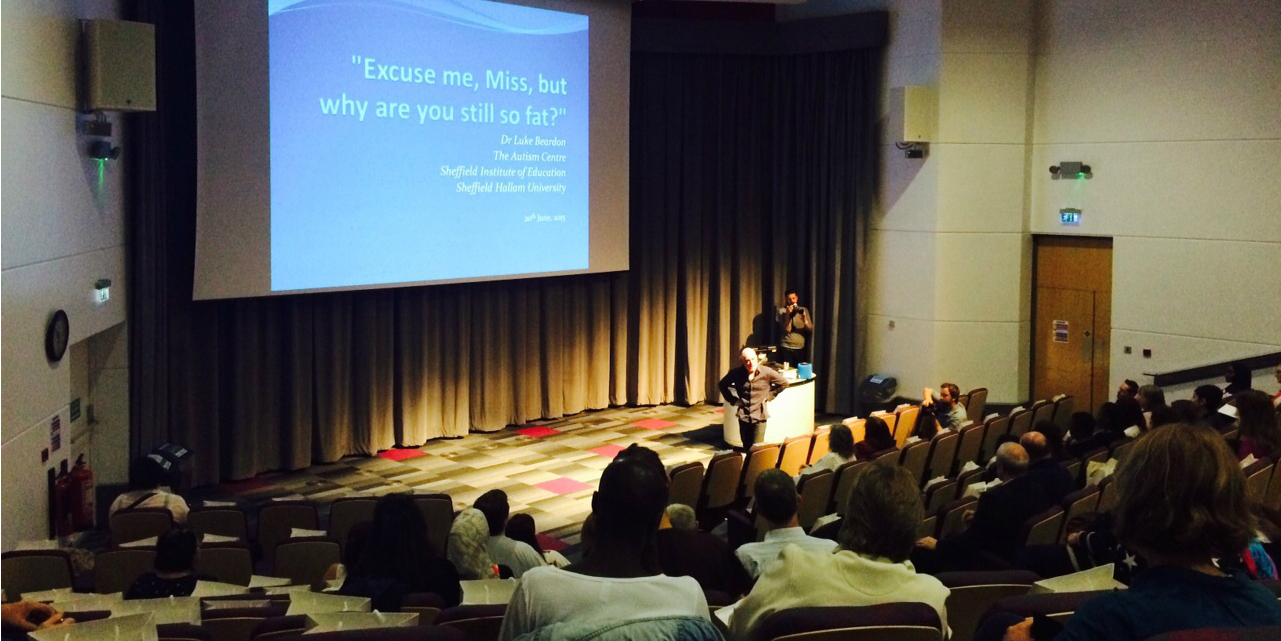 When Randstad told us they were organising the first ever national professional development conference designed especially for supply teachers, we didn't hesitate to offer our support by co-sponsoring the event. And so it came to be that last weekend, we set off on a little road trip to sunny Sheffield.
The conference began bright and early on Saturday 20th June, when delegates arrived to meet and network with newfound colleagues over (much appreciated) coffee and pastries. Before long, we were called into the lecture theatre for an amazingly thought-provoking, informative and humorous keynote by Dr Luke Beardon, who discussed how teaching staff can support pupils with autism.
For the rest of the day, delegates chose their preferred sessions from a packed programme of workshops ran by experts from Sheffield Hallam Institute of Education and specialist teaching school leaders.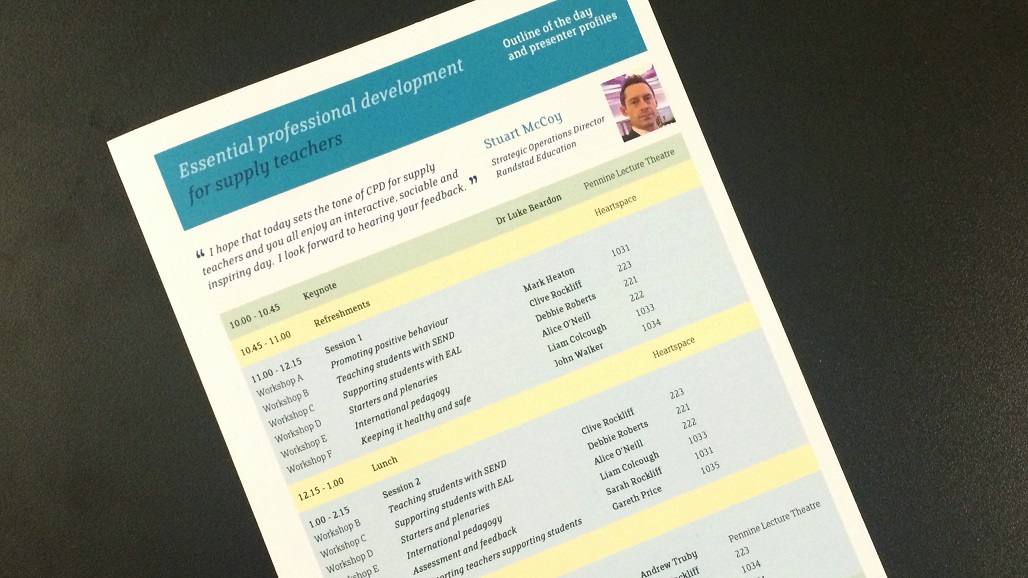 The schedule was packed with informative talks and workshops
from start to finish
Not only did we learn a lot, but we also came away with even greater empathy for the challenges faced by supply teachers. Here are our team's top five takeaways from the day:
1. Students with EAL are lucky to have Debbie Roberts on their side.
I attended her afternoon workshop and her passion and knowledge on this subject was truly inspirational. She not only recognises the increasing challenges and lack of support teachers face when teaching pupils for whom English is an additional language, but she's actually doing something about it. – Angela Moro
2. The very best friend a supply teacher has when arriving at a new school is a Teaching Assistant.
I heard from more than one Headteacher that despite the best of intentions, it's often a challenge to give a new arrival everything they need – from lesson plans to passwords to directions to the staffroom – before the morning bell rings. A Teaching Assistant knows all this stuff already, so ask them for help when you need it. They're 'the angels of the classroom', as one Head put it. – Jacqueline McCreadie, Client Account Manager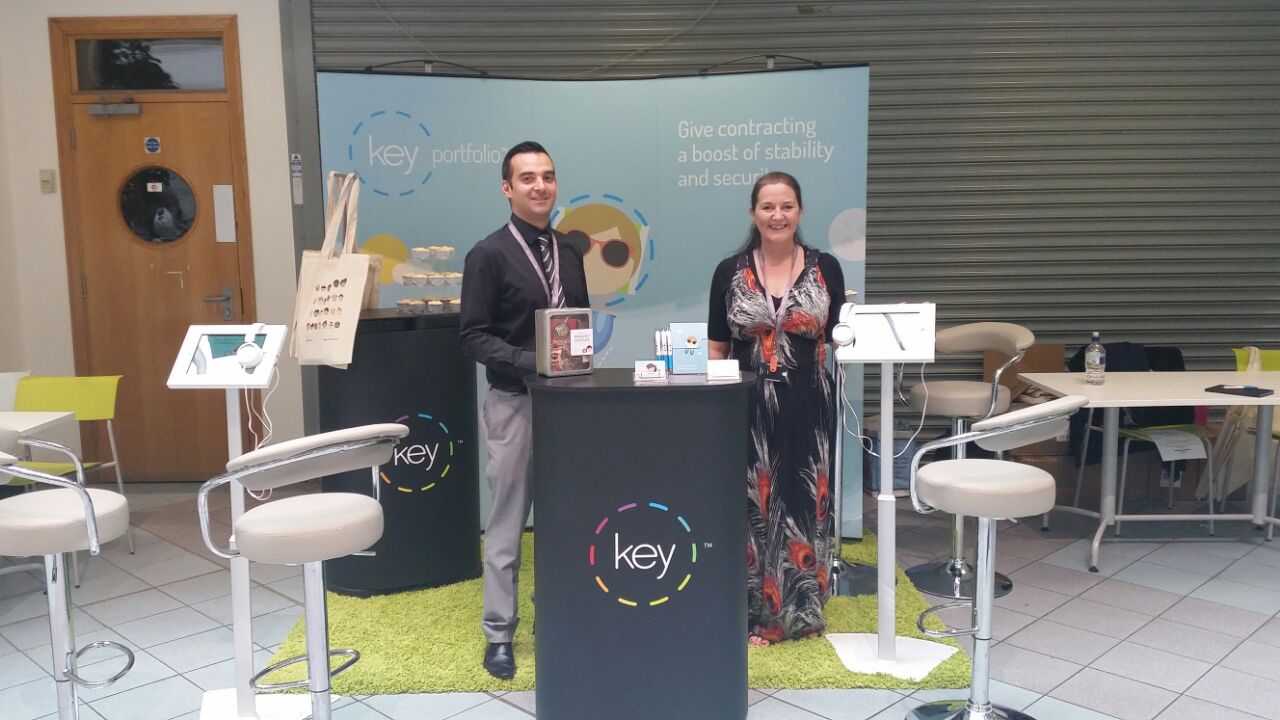 We were there to chat, mingle, talk to teachers about our services
and learn as much as we could
3. Supply teachers are honest-to-goodness everyday superheroes.
Not only do they continually adapt to the latest curriculum and teaching methods, but on top of that there's new schools, pupils and staffrooms too. I don't know how they do it. Having had the opportunity to hear more about their experiences first-hand, I have a renewed admiration for supply teachers and even more respect for the value they bring to our schools. – Marie Edwards, Employment Administration Team Leader
4. Kids with autism do things a little differently from other kids – and that's OK.
In his workshop, Dr Luke Beardon stressed how valuable it is when teachers accept this. We'd never ask a child who uses a wheelchair to take the stairs the same as all the other kids, even if it was physically possible, because it would be exhausting, distressing and humiliating. These are exactly the same reasons why we shouldn't expect children with autism to act – or react – like all the other kids. – Mark McNee
5. Everyone should try harder to support supply teachers – from agencies to schools to Umbrella companies.
On Saturday, many permanent teachers and school leaders told me how keen they are to offer advice and tips about working in their school, but they're unsure if it would be welcomed. And some of our teachers were pleased to meet us face-to-face so they could finally ask a question they'd always kept to themselves, no matter how much we encourage them to phone us any time. Supply teachers, think of your recruitment consultants, permanent colleagues and everyone at Key as your professional support network. I think we should all agree to be more proactive in asking for and offering help to each other. – Sara Jackson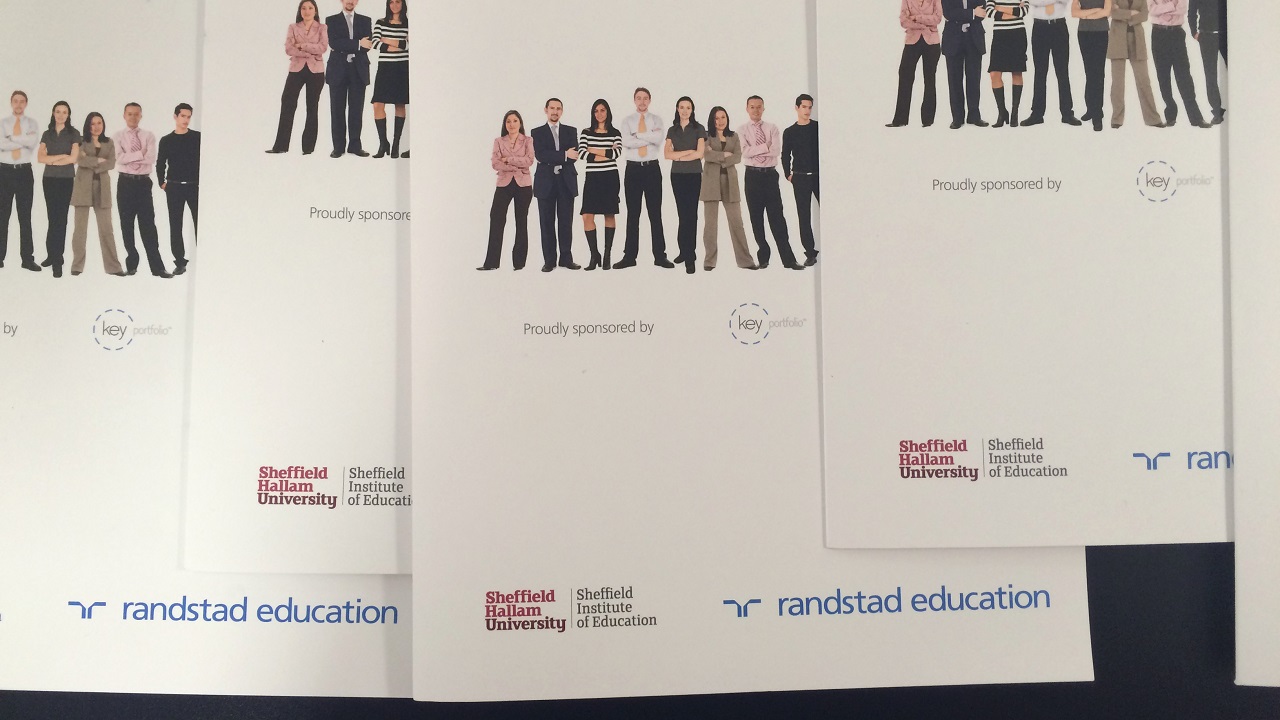 Everyone's conference packs were filled with notes by the end of the day
Overall, the event was a fantastic experience and the perfect way to round off National Supply Teacher Week 2015. We'd like to say a big thank-you to Randstad for inviting us to be involved, Sheffield Hallam University for their expertise and hospitality and the presenters for being so inspirational and knowledgeable.
We were hugely impressed by the usefulness and depth of knowledge being shared at the Randstad Professional Development Conference, and feel proud to have played a part in an event that was (by all accounts) so valued by the supply teachers who attended.