We sponsor the Protocol Education Pub Quiz!

1 minute to read
Over forty teachers, support staff and Protocol Education consultants gathered in The Yorkshire Grey in Central London on the evening of Friday 1st May. All were there for one reason, and one reason only – to become the next big winners of the annual Protocol Education Pub Quiz!
The teams were put through the ringer over seven rounds, testing their knowledge on such varied topics as music, London trivia and of course education, as well as the somewhat appropriately named Incredibly Difficult Round.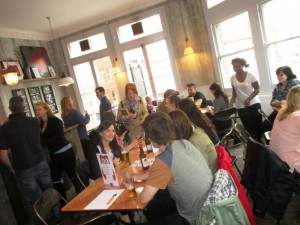 No doubt preparing a high quality team name – via Protocol
We were delighted to provide the top prize – a set of Hotel Chocolat Prosecco and chocolate gift boxes. Second and third prizes were sets of fab stationery courtesy of Twinkl Education Publishing. We also sent along a couple of emergency chocolate boxes as spot prizes, presumably causing several sugar rushes throughout the evening.
As is the case with pub quizzes, not everyone can win, and on the night it was four-person team 'All Sixes and Sevens' who walked away with the top prize. We're reliably informed that there were many envious eyes around the room.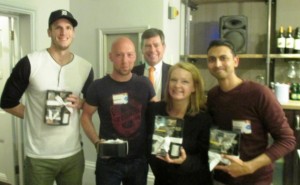 Protocol CEO Stephen Lawrence with the lucky winners – via Protocol
A great night was had by all (as the Facebook photos can confirm), and we were incredibly proud to once again play a part in an event that helps to bring together so many members of the contracting community.